I'm not sure if my USA readers know this, so I'll jot it down in case there's someone who doesn't know. WalMart price matches all flyer prices of local grocery stores. It's safe to bring the flyer with you to get the lower price, but if you forget and are challenged by the cashier, their customer service has the weekly flyers. The only items WalMart does not price match are store brand items or buy one get one free when there is no price in the ad.
There's a Kroger where I live and this week they have some prices that can't be ignored. Kraft block cheese is 1.49 and Honey Nut Cheerios are 1.29. I know most kiddos like apple juice and this week's price on Motts brand is -get this - .99 cents for the 64 ounce bottle. Bumble Bee tuna is .50 a can, well worth a trip across the street for some price matching activity.
At Kroger you have to purchase five items to get that price. At WalMart, you don't need to.
Here's the Kroger ad for this week. Keep in mind the prices may vary due to location. I have a friend in the Midwest who has better prices than we do in my area.
https://www.kroger.com/weeklyAd
I took the short journey to the farmer's market yesterday for tomatoes. I pad 3.00 for nine tomatoes and received 3 large ones for free.
Since I was on a roll crossing off items on my list, I went to Walgreens to buy rubbing alcohol. I got 6 bottles and with them came two free first aid pouches. After I load them with the appropriate items one will go in the vehicle and one in the house.
Next on the list was returning an item to Target and checking out the dollar spot.
I had some luck at the dollar spot because all the new fall items were in. They had grill fire starters, tissue, and goodie bags for Halloween. Three dollars later and I am more prepared for the fall season of running noses, trick or treaters, and grill meals.
Sunday my daughter and her family came for a meatloaf dinner. The weather was perfect because a cold front came in the night before and brought a feeling of fall air. I had bought five pounds of organic carrots for 2.99 that were huge, so I only needed two to feed the five of us. A nice sauce of brown sugar and butter and they were so good. The meal was topped off with a salad and a big pot of rice (the mix recipe I posted in a previous post) and banana bread for dessert.
I prepared two meatloaves because I thought if we could all get on the same schedule we could enjoy each others company. But, daughter number three's family schedule didn't match up, so her family will come another time. The second meatloaf is patiently waiting in the freezer.
On Sundays there is a cooking show on QVC. I turn it on as background noise and like to see what's new in the kitchen. I seldom purchase anything, but today I bought a cookbook.
My readers know that I covet my grandmother's sauce and meatball recipes. Even though my cousin and I spend a lot of time in the kitchen with grandma D, neither of us paid attention to most of her recipes. This cookbook is put together by Frankie Avalon, who is also 100% Italian. The recipes are his grandmother's - straight from Italy. I know the food is different in the regions in Italy, but I'm hoping there will be some of my grandmothers recipes in the book. One can only hope.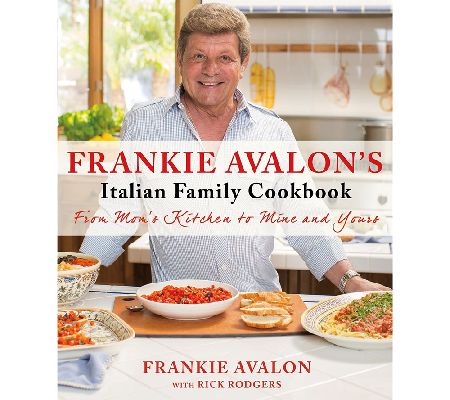 I brought down the fall garland I bought last year and enhanced it with paint that matches the wall color. I like things muted so I was happy with the outcome.
The garland is drying. I'm not sure it looks so good in this
picture, but it looks very nice to me as a finished product. When
the sun is up, I'll take a picture of it on the fireplace to show-
vase how nice it looks.

Also this week I dried more mushroom stems and celery. The celery needs to be blanched before it's dried, After it's dried it is so small, but it rehydrates to look the same as before it was dried. I now have enough veggies to make a quick soup in the winter when I'm in a lazy mood. The soup will be packed with vitamins from peppers. celery, carrots, mushrooms, bay leaf, and parsley.
The celery before it went into the dehydrator. When it came out
it was the size of a tiny stone. After it's cooked, it will look
like this again.
I hope your week went well. Let us know what you accomplished this week in the comment section.
Stay safe.